Blackened Shrimp Tacos with Peach Salsa and Coconut Crema
Going to Key West did a number on my soul.
Weird to say right? It was our first trip leaving the Goose. We were gone for 5 full days for my bestie's wedding.
It was the most glorious hell. Why? Well, leaving her was really hard. I am home with her and she is my person. I never spend more than a few hours without her and even that is rare. This has its advantages and disadvantages.
Advantages: I know her every move, I can tell just by looking at her what she wants, and I get so many delicious toddler snuggles.
Disadvantages: I mean really, have you ever been alone with a toddler? I don't think I have eaten an entire meal during her awake hours without a sticky hand reaching on my plate in over a year. And well a trip to the bathroom alone? Hahahahaha, yeah right. I'm happy if I have a trip to the bathroom that doesn't involve her trying to climb in the bathtub fully clothed and turn on the water. Her other favorite activity during potty time: finding mommy's body wash and pouring it all over herself or trying to drink it.
So yeah, mixed feelings about leaving her. On one hand, I knew I'd miss my little lovebug. On the other hand, nearly a whole week of eating my own food! Woohoo!
And let me tell you, getting to eat all of my own food for an entire 5 days without sharing or eating food that had been in her mouth or sticky hands came in handy. Between the chimichurri sauce we had at the wedding and the shrimp tacos I'm about to tell you about, it was some solid eating.
On the drive from Miami to Key West, we stopped in Key Largo for lunch. We went to this little roadside fish shack called The Key Lime Cafe. It's ranked number 1 for restaurants in Key Largo on Tripadvisor. Holy smokes, for good reason!
This place was amazing. It was a combo store and outdoor food stand with a really funky artsy, island feel. The perfect Florida Keys vibe. You could only eat outside (which was a bit of a downer in July). The prices were really reasonable. For less than 20 dollars we had conch fritters and shrimp tacos. While they were both delicious, the shrimp tacos were definitely something to write home about with a spicy island flair balanced by sweet coconut.
Or at the very least make my own take on. Just like shrimp tacos on Key Largo, my blackened shrimp tacos with peach salsa and coconut crema combine sweet and spicy. This quick and easy meal tastes like an island vacation, or at the very least the height of summer with the juicy sweet peaches, the coconut and lime notes throughout.
YUM. I could eat these every day of my life.
Or at least every day of the rest of the summer. It would be easy to do too. The meal came together in less than 30 minutes and I had a Goose standing at my counter while I was chopping the peaches begging for them. In process she ate two whole peaches. Amazing.
I have leftover peach salsa and coconut crema in my fridge right now, and my little brain is in overdrive thinking about how I can use the rest of it up. Perhaps on a salad with black beans?
Print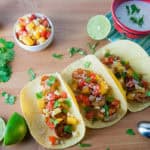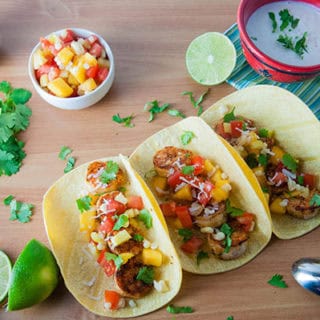 Blackened Shrimp Tacos with Peach Salsa and Coconut Crema
---
Prep Time:

15 minutes

Cook Time:

5 minutes

Total Time:

20 minutes

Yield:

6

-

8

tacos

1

x
1

pound of shrimp, cleaned and peeled

1

tbs chili powder

1

tbs garlic powder

1

pinch of cumin
the juice of 1 lime

1

tbs coconut oil
salt and pepper to taste

6

corn tortillas
For the Peach Salsa
2

peaches

1

tomato

1

sweet frying pepper

1/2 cup

of sweet corn
the juice of half a lime
For the Coconut Crema
2

tbs of sour cream

4

tbs of coconut milk

4

tbs shredded coconut

1

tbs honey
the juice of half lime
---
Instructions
Place shrimp in a bowl with the juice of 1 lime, garlic powder, chili powder, cumin, and salt and pepper. Toss to coat them. Let sit while you prepare the salsa and crema.
Peel the peaches and then chop them along with the tomato and peppers into bite size pieces. Put them in a bowl. Add corn. Add the juice of half a lime. Set aside.
To make the coconut crema, whisk together the sour cream, coconut milk, shredded coconut, lime juice, and honey. Set aside.
Heat a grill pan over medium to medium high heat with a tablespoon of coconut oil. Cook the shrimp for 2-3 minutes prior to flipping and cooking an additional 2 minutes.
To assemble the tacos, place 3-4 shrimp in each corn tortilla. Top with the peach salsa and coconut crema. Garnish with shredded coconut and fresh cilantro if desired.