Welcome to the place where I share what I'm up to each week and a bit of my real life outside of the blog.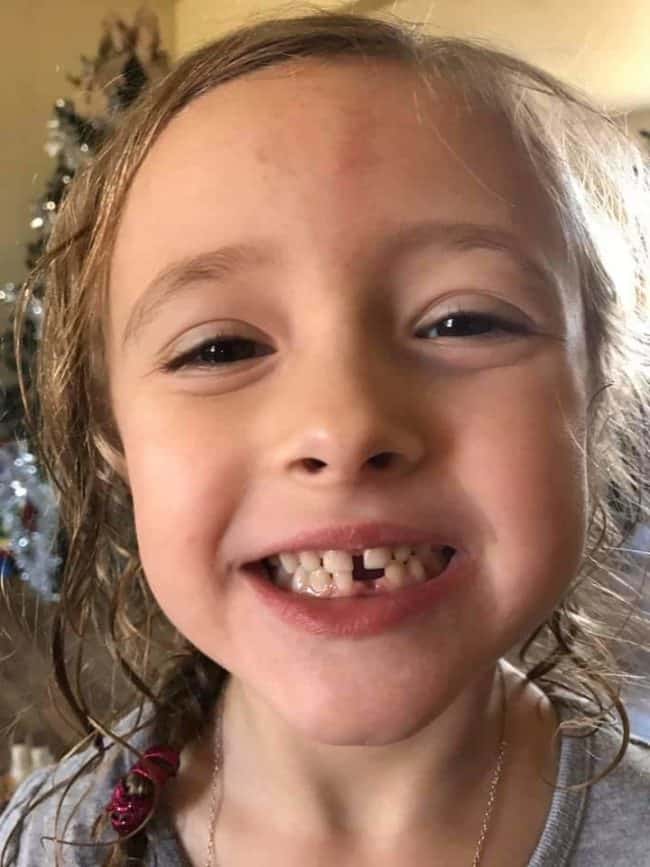 Post may contain affiliate links. To read my affiliate policy click here.
But first- a lost tooth!
Goose's loose tooth is no more! She lost her tooth earlier this week in the middle of the night. This kid calls us for a multitude of reasons in the middle of the night. Drinks of water, dreams of scary fishies, bathroom breaks, her foot itches, to find out why we have armpits…
But does she tell us she lost her first tooth? NOPE.
In fact not only did she not summon us to her lair in the middle of the night to tell us, she didn't tell us when she got up the next day. She had been up and awake and going about her business for almost an hour when she laughed at something I said and I saw the gap in her smile.
I couldn't believe it.
My kid lost her first tooth. A step away from babyhood and little kid land into bonafide big kid land.
"OH MY GOD! HOLY COW! YOU DON'T HAVE ALL YOUR TEETH!!!" I screeched.
She just kind of looked at me and shrugged as if to say, "Big deal Mom."
"When did this happen?"
"Last night. It fell out and I put it on my table but it fell off and now it's gone."
"Are you sure your tooth fell out last night?"
Lots of sass. "Yes." Duh Mom.
"And you didn't tell us??"
A shrug.
"Why not? This is definitely something you can tell Mommy and Daddy in the middle of the night."
Giggles. "I don't know."
And that was that.
In case you were wondering, she did in fact drop her tooth on the floor and it was under the abyss of her bed, where we found it later that night. The Tooth Fairy came and left her two very glittery dollars.
And I've been walking around for 3 days randomly saying, "You lost a tooth. My big girl!………. But why didn't you tell us?"
Reading
I finished Waiting for Tom Hanks. It's easily one of my favorite books of all time. It was such a feel good book. I can't wait until Not Like the Movies, a spin off book about the supporting characters in Waiting for Tom Hanks.
Currently reading A Shopaholic Christmas. Yes, I know, it's March. It's ok. I forgot how much the main character in the Shopaholic books stresses me out with her unnecessary obsessions and poor life choices.
Watching
I am so deeply obsessed with Schitt's Creek right now. We just finished season 3 and the episode where Alexis gets lice might be one of my favorite episodes of a tv show ever. It's on par with the episode of the Golden Girls where Sophia buys a nectarine (the best episode of the show IMO). Not only is the lice episode really funny, there are some really endearing moments with Alexis and Tim. The show has really developed their characters and their relationships so well and this episode was the epitome of that.
Also, fellow Schitt's Creek fans, can we talk about what a treasure Catherine O'Hara is? She is brilliant as Moira and manages to be likeable despite the fact that she is just bat shit crazy.
Ohhhh and the season 3 finale! All the warm feelings. LOVED. I would watch that episode in my worst mood to cheer me up instantly.
Wanting to Buy
A really good sound muffling sleep mask. I struggle to fall asleep sometimes and have to burrow down in my pillows like a reclusive hibernating ground hog to block out light and noise. (Speaking of, the white noise machine in my son's room drives me absolutely insane over his monitor.) But sometimes I get too hot to burrow or I want both my pillows to sleep on and not sandwich my head in. So it is time. I'm researching because I want a mask that not only muffles sound and blocks light but one that is comfortable and breathable. If I could find a cooling one even better, but I don't think one like that exists. But if you know of any, please let me know. I'm on a mission.
Eating
So our house was plagued with the flu or other evil virus from hell last week and we didn't do a ton of cooking or eating. However, before it took me down, I did make a really yummy creamy gnocchi soup. I'll definitely share the recipe at some point on here, but I'm debating holding off on that til fall. Since spring is right around the corner, I have tons of salads and picnic foods in store soon including a new version of this potato salad and a new chopped chicken salad that is so flavor packed. Can't wait to share.
That's it for me this week! What are you up to? Leave me a comment and let me know!