Summer practically screams blueberry pie or better yet stove top no bake blueberry pie. With only 4 ingredients. It doesn't get much easier than that!
Thank goodness because I have a serious problem. I'm totally addicted to picking my own fresh fruit and veggies so I am literally up to my eyeballs in blueberries.
See, I am a country girl through and through. I grew up picking all my own fruit and veggies. Most people go apple or pumpkin picking once a year as a novelty with their kids. I did it like once a week with my dad. For all different fruits and veggies.
Now my dad and I do it with my Goose. And she seems to love it!
I'll be honest. Goose is in that handful stage. I was really nervous before my dad and I took her to pick strawberries this year. Really nervous. I could just see her having a full blown conniption in the middle of the strawberry patch.
But my kid loves to be outside. And she loves dirt. So this adventure was heaven for her. I'm pretty sure she thought we were taking her to just play in the dirt. And the strawberries were just a happy, yummy accident.
And when we took her to pick blueberries, more of the same: she was happy to be outside and play in the dirt. She also loved picking the berries off the bush and putting them in my bag. Unfortunately, she wasn't exactly discriminating when she picked. So many not blue blueberries wound up in my bag.
Even so, we picked a ton of blueberries. They are probably my favorite thing to pick. They only need washing prior to eating, no cleaning. Unlike strawberries, you can pick them standing up so it's comfortable to do. It takes longer than picking apples or peaches, so it feels like you are making an event of it. Plus, it's really full on summer during blueberry picking time. It's almost my perfect summer activity.
And with a happy Goose underfoot, I did it twice last week alone. Anything to keep her inner toddler demon at bay.
So I have a ton of blueberries in my house. And what do you do with a ton of blueberries? Obviously make pie.
How do you make pie in the middle of a heat wave? On the stove.
It's easy and fast. No oven required. And the pie? Delicious, bursting with fresh blueberries and healthy with no added sugar and a cereal crust. It's gluten free and low fat. It's so healthy, you can eat it for breakfast. I just love dessert for breakfast. Especially when it's healthy. It's a serious win.
Print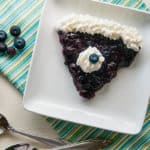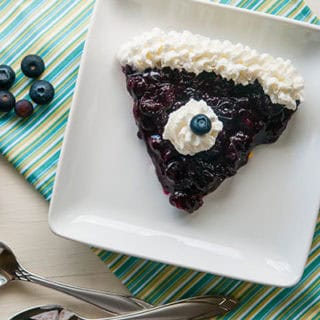 Stove Top No Bake Blueberry Pie
---
Prep Time:

5 minutes

Cook Time:

5 minutes

Total Time:

10 minutes

Yield:

1

pie

1

x
For Filling
3 pints

( about

4.5 cups

) of blueberries

1 cup

of sweetener*
For crust
3 tablespoons

butter (melted)

4 cups

Chex cereal (whatever flavor you prefer)**
---
Instructions
In a blender, blend all Chex until it is a course powder.
Pour in melted butter and blend again until well incorporated.
Empty blender into 9 inch pie tin.
Gently push and spread the crumbs out until it coats the bottom entirely (it will only go up the side slightly)
Let set in the refrigerator for a few minutes while the blueberries are prepared.
Pour blueberries into medium pot and heat over medium-low heat.
Mix in sweetener until it is well integrated.
Stirring occasionally, heat until blueberries resemble a chunky jam.
Carefully pour the blueberries into the pie crust.
Let set in fridge for at least 30 minutes or until pie is firm.
Serve with whipped cream.
Notes
* We used Stevia but feel free to use sugar or Splenda.
**We used Honey Nut Chex, but it would be amazing with Cinnamon or Vanilla.