I love Thai food. Adore it. Could eat it every day. And I'm pretty sure when I was pregnant with Goose, I did. All I wanted was Thai food, all day, every day. I wish I had come up with this spicy Thai style peanut hummus then.
And I am thankful that I have some in my fridge now. It's not even 9 am and it's been an adventure over here.
My goose figured out how to remove both her diaper and her clothes. So this morning she's up ridiculously early- 7:30. Her normal wake up time is between 9:30 and 10. I go in and find naked baby and a soaked crib.
Awesome. Time for a bath. Well, she insists on bringing her soaked lovey into the tub. I then washed it with my shampoo. She cries hysterically as this is happening and keeps taking it from me, shoving it in my face so I can give it kisses. I want nothing less than to kiss the dirty lovey.
But I do. Because I am a mommy and that's what I do. And honestly, anything to get the morning back under control. I mean, this is all happening before I have finished my first cup of coffee.
So now I have a clean, overtired kid and a clean, smells like my shampoo lovey. They are both back in the crib, rightly so, and I hear silence. Thank goodness.
And now, I'm chugging my coffee and stress eating this spicy Thai style hummus. It's a weird breakfast, but it was ready to go. And it's delicious. It kinda reminds me of my favorite pregnant breakfast: Panang curry- the hotter the better.
This spicy Thai style peanut hummus is sort of a take on the peanut sauce that comes with the summer rolls at my favorite Thai spot. Honestly I get the summer rolls just so I can eat this peanut sauce. It's spicy but sweet. Creamy and just a little salty. Delish. I eat it with a spoon after the summer rolls are done.
That's how I got the idea for this spicy Thai style peanut hummus. I took all of my favorite flavors from that peanut sauce and combined them in this hummus. Peanut butter, coconut, lime, curry, and a bit of Siracha for some kick.
Omg. So good. And only takes 5 minutes of prep and a food processor. Easy peasy.
Plus it's pretty healthy. It's vegan, a great source of protein with the peanut butter and the chickpeas, and full of fiber and healthy fats. And it tastes amazing on sliced cucumber. The cool cucumber is a nod to the light summer rolls that the peanut sauce comes with. It's the perfect snack or light summer lunch.
Or on days when your toddler wakes up naked and wet and all hell breaks loose, it makes a pretty decent breakfast too.
Print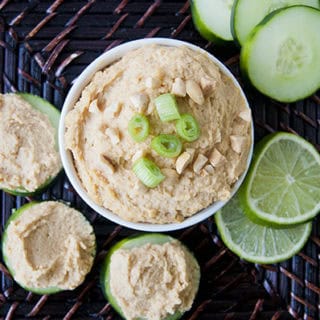 Spicy Thai Style Peanut Hummus
---
Total Time:

5 minutes

Yield:

2 cups

1

x
2

cans of chickpeas, drained and rinsed

5 tablespoons

of canned coconut milk

2

tbs of creamy peanut butter
The juice of 2 limes

1

tbs of siracha

1 tsp

of curry powder
salt and pepper to taste
---
Instructions
If the coconut milk has solidified in the can, spoon out 5 tablespoons into a small bowl and microwave it for 15-20 seconds or until it's melted.
Combine all the ingredients in a food processor and pulse until smooth.
Serve with cucumbers or other fresh veggies or crackers.