Sheet pan gnocchi with roasted fall vegetables is a deliciously easy meal. Loaded with roasted butternut squash, crispy Brussels sprouts, and oven caramelized onions, this sheet pan dinner is sure to please.
This is it. My meal of the fall. And let this sink in for a moment: there is no pumpkin in this meal. I repeat: no pumpkins were harmed in the making of this dinner.
But this is it. This sheet pan gnocchi with roasted fall vegges is still my meal of fall.
Why do I love this sheet pan gnocchi with roasted fall vegetables so much? Let me count the ways!
First, it is super easy to make. You just throw some veggies you've cut and gnocchi that you've tossed in melted butter, olive oil, and herbs onto a sheet pan and pop that sucker into the oven. Then you go about your life while the veggies get happy. And that's it. 20ish minutes later you've got a sheet of glorious deliciousness.
Second, omg, it smells fabulous while its cooking. The sage and the garlic give this dish the best aroma. It's like the best smells of Thanksgiving wafting through the house.
Third, it's delicious. Sage. Garlic. Crispy roasted Brussels sprouts. Slightly sweet roasted butternut. Butter and olive oil for richness. Slightly crispy gnocchi that has a little nuttiness from roasting in the oven. Yes, yes, yes, and YES!
Fourth and most shockingly: EVERYONE IN MY HOUSE ATE THIS HAPPILY. EVERYONE. This deserves an all caps because I'm dealing with a husband that doesn't love vegetarian meals. Plus he is sort of meh about fall foods in general, like butternut squash. I know, I know. What kind of monster did I marry? Then, I've got the world's pickiest 5 year old. She lives on tacos, waffles, and chicken nuggets. And my 10 month old. Well, he eats everything but it needs to be not spicy or a choking hazard.
This meal fits those requirements. It was a fall miracle!
Making Sheet Pan Gnocchi
Gnocchi is already super easy to make when you're using packaged gnocchi. You just throw the little dumplings into boiling water and cook them until they float to the surface. Normally this takes 2 to 4 minutes. Then you get little soft pillows of potato and pasta.
Making sheet pan gnocchi is just as easy and you don't have to boil it first. The gnocchi gets all crisp on the outside but still wonderfully soft and chewy on the inside. Think of the texture of a roasted potato, which is essentially what sheet pan gnocchi is: roasted potatoes.
Roasting the gnocchi gives it this whole new depth of flavor and a nuttiness that you just don't get from boiling the gnocchi. The olive oil and butter combination really brings out this nutty flavor and lets it shine.
How do I serve roasted gnocchi?
Because roasting the gnocchi in the oven gives it this lovely, delicate nutty flavor, I wouldn't serve sheet pan gnocchi with any heavy sauces. I would definitely not serve this with red sauce, even though gnocchi with red sauce and melted mozzarella is a beautiful delicious thing. But the heavier marinara sauce would overpower the delicate flavor.
You could make a quick brown butter sauce the way I do with this winter veggie pasta or this brown butter gnocchi with butternut and kale, but you don't have to at all. The vegetables will give off a little bit of liquid during the roasting process plus you've got the olive oil and the butter that you've tossed the gnocchi and veggies in. It's also perfectly flavored from the blend of herbs you toss in with the oil and butter. You really don't need anything else for loads of flavor.
I don't like the vegetables. Can I change them?
Sure! I've made this a few times with different vegetables and this just happens to be my favorite combination. Instead of Brussels sprouts, you could use broccoli or asparagus. Both would be fab. You can absolutely sub out the butternut squash for any other squash you prefer. Not a squash fan? Use sweet potato cubes! We've done that and it's really delicious and doesn't change the cook time.
And while we're talking about sweet potatoes, I just want to point out that I am using sweet potato gnocchi in this. Don't feel like that's essential to it. I've made this with regular gnocchi too and it's just as delicious.
Also, feel free to add some meat to this mix if it tickles your fancy. I don't miss meat with this, but if you have someone in your family that will only eat meals with meat, this gnocchi pairs well with oven roasted chicken. I like this oven roasted chicken from the Wicked Spatula in this dish.
Print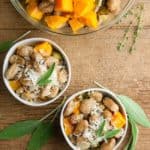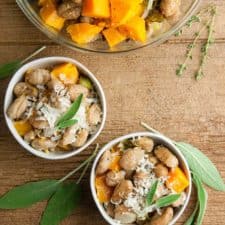 Sheet Pan Gnocchi with Roasted Fall Vegetables
---
Author:

Prep Time:

10 minutes

Cook Time:

20-25 minutes

Total Time:

30-35 minutes

Yield:

6

servings

1

x
Description
Sheet pan gnocchi with roasted fall vegetables is a deliciously easy meal. Loaded with roasted butternut squash, crispy Brussels sprouts, and oven caramelized onions, this sheet pan dinner is sure to please.
---
2

16 ounce packages of gnocchi

1/2

large butternut squash, cut into inch cubes

12 ounces

of Brussels sprouts, trimmed and halved

2

sweet onions rough chopped

4

pressed cloves of garlic

3

tbs melted butter

1/2

c olive oil, divided

1 tsp

sage

1 tsp

Italian seasoning
salt and pepper to taste
Parmesan cheese to taste
---
Instructions
Preheat the oven to 425. While oven is preheating, peel cut the butternut squash into inch cubes. Then trim the ends off the Brussels sprouts and cut them in half. Lastly, rough chop the onions. Add the veggies into a large bowl with the gnocchi. Add in melted butter and half of the olive oil, reserving the other half. Then toss the veggies and gnocchi to coat. Add the pressed garlic, sage, Italian seasoning, and salt and pepper. Toss again to combine. Pour onto two sheet pans lined with aluminum foil and sprayed with nonstick spray. Bake at 425 for 25 minutes, flipping half way through. Remove from oven and drizzle with remaining olive oil and sprinkle with Parmesan cheese if desired. Enjoy!
Category:

dinner

Method:

roasting

Cuisine:

Italian. American
Keywords: sheet pan gnocchi, roasted gnocchi, sheet pan gnocchi with fall vegetables