An easy Mexican quinoa salad full of black beans, sweet corn, bell peppers, onions, tomatoes, and avocado with a tangy lime vinaigrette is a perfect lunch salad.
I have found a food my normally garbage disposal like toddler wont eat: avocado. She picks them all out of this Mexican quinoa salad with lime vinaigrette. Then she either mushes them around on her high chair and finger paints with them or tosses them at the dog, who steps in them and paw paints on the hard wood floor.
It's good times in this house.
Actually, the entire way my toddler eats this dish is kind of interesting. She goes for the black beans first. They're her favorite. (I know, I'm not sure where she came from either to love black beans and chickpeas. Side note: she now knows how to open the pantry and has been to bring me cans of black beans and chickpeas and drop them on my feet when she wants them. I'm not a fan of this habit. It hurts.) Then she goes for the corn. Then the quinoa. The tomatoes are a toss up. Sometimes she eats them, other times she just squishes them and laughs like maniac as she does it.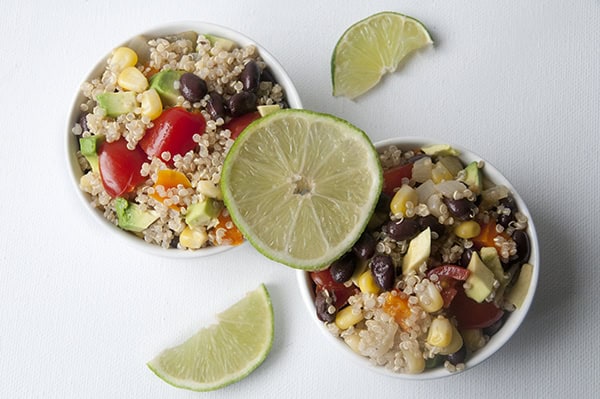 I mean I guess it is pretty funny to squish tomatoes. Especially when you finger paint with avocado.
While this meal isn't a total toddler win, it's an absolute slam dunk for me especially during the spring and summer months. I can make it ahead of time, serve it hot or cold, and it makes a giant serving that I can eat all week for lunch. Plus it's healthy and delicious and makes up for things like chocolate cheesecake crepes. And since I am still trying to loose the baby weight over a year and a half later, well, healthy is good. After all, I am on week 3 of Shaun T's butt kicking in T25. If I am going to actually work out instead of collapse on the couch in a heap and watch something trashy and oh so addicting like Gossip Girl on Netflix, then I am not going to kill my efforts all the time with junk.
At least not today. Balance, ya know?
Instead I'm going to get my sweat on and dig into this delicious, protein packed vegan goodness and feel the healthy glow. I won't tell that the glow is actually the sheen that's developed on my forehead from the sheer effort of chasing around the Goose today and lack of shower.
Oh well, at least I'm eating well and loving this Mexican quinoa salad.
Print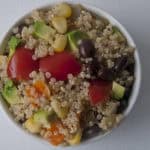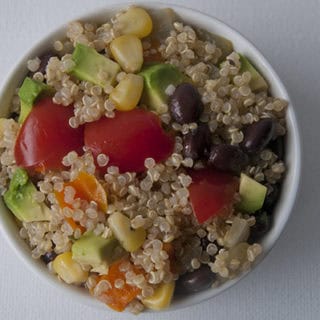 Mexican Quinoa Salad with Lime Vinaigrette
---
Author:

Prep Time:

5 minutes

Cook Time:

20 minutes

Total Time:

25 minutes

Yield:

6

-

8

servings

1

x
Description
An easy Mexican quinoa salad full of black beans, sweet corn, bell peppers, onions, tomatoes, and avocado with a tangy lime vinaigrette is a perfect lunch salad.
---
1 1/2 cups

of uncooked quinoa

1

can (approximately 1 2/3 cups) black beans, drained and rinsed

1 cup

of frozen corn

1

bell pepper

1

onion

2 cups

of cherry tomatoes, quartered

1

avocado**

2 tablespoons

of olive oil

1 teaspoon

of garlic powder

1 teaspoon

of cumin

1 teaspoon

of chili powder
salt and pepper to taste
sprinkle of cilantro*
Dressing
The juice of two limes

3/4 cup

of olive oil
salt and pepper
---
Instructions
Cook the quinoa according the package instructions and set aside in a large bowl.
While the quinoa is cooking, dice the onion and pepper and cook in 2 tablespoons of olive oil over medium heat until soft, about 5-7 minutes.
When onions and pepper are soft, add the drained black beans, corn and spices. Cook until corn is thawed.
Pour the warm veggie mixture over the quinoa. Add the quartered cherry tomatoes and diced avocado.
In a separate bowl, whisk together the lime juice and olive oil. Season with salt and pepper. Pour dressing over the quinoa salad and toss together until all veggies are coated.
Notes
*People have a love hate relationship with cilantro. If you love it, use it. If you hate it, feel free to omit it.
**If you are adding the avocado when you make the salad and intend to eat this all week long, then you must toss it in the dressing. The lime keeps the avocado from turning brown.
Category:

salads, side dish, lunch ideas

Cuisine:

Mexican, American
Keywords: Mexican quinoa salad, quinoa salad