Gift Guide for Foodies
Hey, hey. It's that time of year. Holiday shopping season is upon us. And I got to tell you… in the last like three months, I've discovered the joy that is online shopping.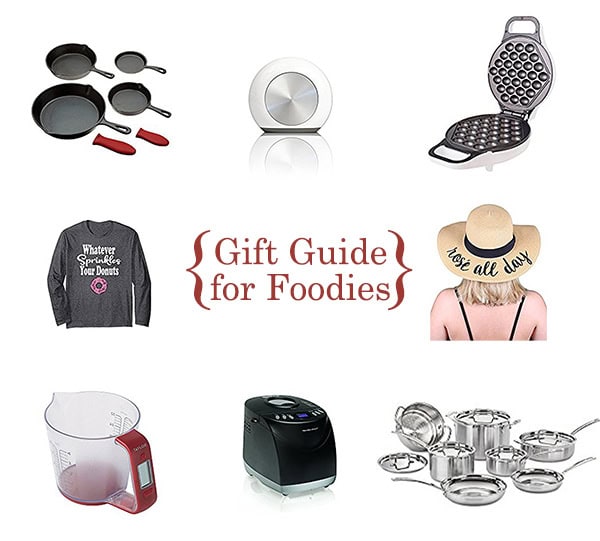 I know, I know. I'm really late to this game. Whomp whomp.
But. Guys, I have bought some really amazing things online in the last three months- amazing kid's clothing, ridiculous movie quote tee shirts because that's my jam, and the best housewarming gift in the history of housewarming gifts. Hello silly embroidered sayings from 90s rap music. Oh yes. I did that, and it's currently hanging in my sister's bathroom after she called me freaking out over its general awesomeness.
So, you know, if you're like me and have an aversion to wearing pants and leaving the house 9 times out of 10 but still like buying awesome stuff. I got ya covered with some of my favorite finds. I have even broken it down into my favorite kitchen essentials, tech gifts for foodies, and amazing foodie apparel.
And yes, full disclosure: the following links are affiliate links, meaning that you help keep me sane (by sane I mean in coffee) by purchasing from one of these links, at no extra cost to yourself. So thank you and happy shopping.
Foodie Finds: Kitchen Essentials
This OXO Good Grips 3-Blade Spiralizer with StrongHold Suctionis my jam. Seriously, I have been through 2 other spiralizers this year including an electric one, and I hated them both. This one though? Use it all the time to make sweet potato noodles, zoodles, curly sweet potato fries. The possibilities are endless. And it works! That's this version's major selling point for me.
We have recently begun to upgrade our pots and pans for every day use to stainless steel. I love them. They are super versatile and much nicer than the cheapie starter set we bought when we were straight out of college. This Cuisinart Pro Stainless Steel 12-Piece Cookware Set a must for any avid home cook.
If you have any pizza afficianados on your list, this Pizzacraft Pizza Stone is just the thing. It gives you that crispy delicious pizzeria style crust and lets you cook it on a grill for that authentic wood fired (or really chargrilled) taste. It takes homemade pizza from a 10 to an 11.
This Set of 4 Preseasoned Cast Iron Skillets, Including Large & Small Silicone Hot Handle Holders. If you are a foodie, you need a cast iron skillet. I'll be honest and admit that I didn't own a skillet until this spring but now I am #obsessed. Why? Because you can make the most amazing skillet chocolate chip cookies and you can cook on the stovetop and then transfer these bad boys into the oven. Which btws, is why I picked this set as my recommended gift: the heat handles on the skillets. They get hot in the oven and it's nice to have something other than a pot holder or oven mitt when handling these puppies.
This Hong Kong Egg Waffle Maker by StarBlue – White – Make Hong Kong Style Bubble Egg Waffle in 5 minutes may not be an essential kitchen tool, but it is cool AF. I had my first bubble waffles this summer and OMG so amazing. They are lighter and fluffier because of all the bubbles and go perfectly with a big ole scoop of ice cream.
This Hamilton Beach Programmable Bread Machine, 2-Pound Bread Maker with Gluten-Free Setting (29882) is the ultimate in foodie gifts. My best cooking friend received a bread machine for Mother's Day this year. And we have made several loaves of bread and some killer pizza crust in that machine. I'm in love. With a machine. A bread machine. It's a must if you really love carbs, which who doesn't?
Yes, I have a blender on this list and yes there's definitely a joke there about not giving someone you love a blender. But this isn't a blender blender. Oh no, it's an immersion blender for making soups like this seriously amazing roasted butternut squash bisque. Cuisinart CSB-75BC Smart Stick 200 Watt 2 Speed Hand Blender, Brushed Chrome saves you from dirtying a blender and adding things in batches to a blender to make smooth creamy soups. Instead, just pop this bad boy in the soup, press a button and boom. Smooth, creamy soup heaven.
Tech Gifts for Foodies
So roll with me here, guys. This Anker Portable Multi-Angle Stand for Tablets, e-readers and Smartphones, Compatible with iPhone X/8/8 Plus/7/7 Plus, Samsung Galaxy S8/S7/Note 8, iPad Pro 9.7/10.5/Air/mini, Pixel 2 and More (Silver) is the perfect kitchen tool. No it doesn't cut things or saute things, but if you are like us and get tons of recipes on the internet, you probably don't print many recipes. It's so much more convenient to have your ipad or phone propped up to see it. Then you don't have to keep picking it up with hands covered in cookie dough. This happens a lot in my house.
Yet again, maybe DOSS Touch Wireless Bluetooth V4.0 Portable Speaker with HD Sound and Bass (Black) are a stretch for some of you, but my favorite thing to do in the kitchen is listen to music while I cook. Now because I am me, I am normally listening to Christmas music, yes even in the middle of summer. But occasionally Broadway or pop makes its way through my speakers. I like to turn the music on nice and loud and sing along as a cook. Sometimes, I even use my spatula as a microphone. Yep, that's me. If you know someone like me, then trust me: they will love having a bluetooth speaker for the kitchen.
Hiku The Shopping Button may be the handiest of all kitchen related techie things out there. This device scans barcodes, lets you voice add to a shopping list, and creates a shared shopping list that is stored on an app in your phone. So convenient. I never leave my phone at home but I am always forgetting my paper shopping list and making a list in the notes app is a pain. This takes the work out and boom, done.
You know the adage baking is a science not an art? Well, whoever came up with that saying is right. Avid bakers are all about measuring things precisely and many will measure ingredients by weight please (hello Alton Brown, looking at you). Measuring ingredients on a food scale can be a pia. Why not take the fuss out and check out this Taylor Precision Products Digital Measuring Cup and Scale that allows you to get precise by weight measurements when you bake without a food scale? This way your baked goods will always turn out perfectly.
Foodie Finds: Amazing Apparel
I've recently gotten a new hobby: proclaiming my love of things via clothing. Any foodie with a sense of humor will appreciate these silly gifts.
Ok so I know I said tee shirts but I have a serious thing for socks too. Why not pick up some fun Zmart 5 Pack Women's Girls 3D Funny Crazy Novelty Food Ice-cream Ankle Socks as a stocking stuffer or even a white elephant gift?
This Cute Funny Avocado Baby Onesie is perfect for any new parent on your list that also happens to be an avocado lover. And let's be honest here, aren't most new moms and dads millenials or xennials and aren't all of us in those generations guilty of spending way too much money and energy loving avocados?
Speaking of moms. There's always that one mom (yeah in my circle of friends it's me) that just can't even without coffee. This silly Pink Coffee Lover's Hoodie is perfect for that mom.
Hands down the best pizza tee shirt EVER. This Womens Slice Slice Baby Shirt is perfect for any pizza lover that also appreciates a good Vanilla Ice reference.
Perfect for those festive foodies, this Elf Tee Shirt is lots of fun.
Seriously, my thoughts exactly. Why not share those sentiments on an amazingly sarcastic but accurate Donut Sweatshirt?
Because there comes a moment in everyone's life when they feel this way. Gift your sarcastic kale wary friend this Accurate AF hipster shirt.
Know a rose lover that's heading on vacation shortly after the holidays? They'll appreciate this awesome Embroidered Sun Hat – Rosé All Day for sure.
And for the Rose lover that isn't going to need a sun hat any time soon, this fab Rose All Day Slouchy Sweatshirt is where it's at.