French Onion Chicken
This French onion chicken. OMG. It's my new hands down favorite. We've eaten it not once, not twice, but FOUR times in the last two weeks.
And I don't even really like chicken.
Truth. I am not a chicken fan. It's weird because I write a lot of chicken recipes. I like all the chicken recipes I make. I mean obviously. But go to a restaurant with me? Yeah, I'm the girl asking the waiter if he thinks the chicken is too chicken-y. Yep.
I raise eyebrows the first time I go out to lunch or dinner with new friends and ask this question. About 3 years ago, when our kids were babies, my mom friends and I would have lunch at Carraba's regularly with all our infants in tow. We were a sight. The ten of us new moms and all of our 11 kids. (One of us has twins.) All of our kids at this point in time were under 6 months old. So we would roll into Carabba's and be a basic baby parade, wheeling in our strollers, lugging carseats and diaper bags full of- well- diapers. The other diners in Carraba's would look at us sort of dumbfounded. You could practically hear them thinking, "Who do these women think they are?"
So we'd get seated in this section in the back. Always in the back. We'd take up a whole room with our gear. I mean between ten new moms and 11 babies, we were basically a traveling Babies R Us. We almost always had the same waiter. Poor guy. He was so nice to us all, bringing us constant coffee refills or wine, depending on the day. He'd bring cups of hot water so moms could warm up their milk if needed. When the kids got a little older and started eating food, he'd bring out plates of plain peas.
He was awesome and pretty much deserved the big tips we would leave him every week.
Especially on the week, maybe two or three weeks into our mommy lunches, when I was hemming and hawing as usual over what to eat. I was between some sort of salad and a chicken pasta. But, first I had to ask him a burning question. "Dylan," I said, sort of sheepishly, "Is the chicken in this pasta kind of chicken-y?"
Now of course, at this moment, all the babies were quiet. Peace had befallen our normally bustling table. And the other moms, most of whom I had only just met a few weeks earlier, heard my question. So not only did I have our poor waiter looking at me like I had two heads, I had a table full of other women looking at me like I was nuts.
But this question was important. I had to know if the chicken was too chicken-y. Because nope, I will not eat it if it is. And chicken-y chicken will ultimately ruin chicken for me for awhile.
Thankfully, my ridiculous but totally legitimate question didn't ruin my fledgling friendships with the other moms. Over the last three years, they've been a constant support network and become some of my dearest friends.
Despite needing to know if the chicken is too chicken-y. And in case you were wondering, this French onion chicken is anything but chicken-y. This chicken. It's so full of flavor from thyme and garlic without being spicy. It also doesn't have that weird texture chicken breast sometimes gets. Nope, this chicken is super tender. You can easily cut it with a fork. No knife needed.
And those onions. Holy cow. Those onions are the stuff my dreams are made of. I am obsessed with them. They are basically the onions from this caramelized onion cheese dip and this pizza and they are buttery and sweetly savory. Rich. Perfect except for the fact that they are a wee bit high maintenance. To caramelize onions, you have to put the time in. It's not really hard, but it does require you to stand at the stove, methodically stirring so they don't burn. It sort of reminds me of making risotto with its high maintenance stirring. Like risotto, the onions demand you watch them and stir. It's the perfect thing to cook if you just want to lose yourself in the kitchen for a little while. And because it doesn't require a ton of mental energy, I highly recommend cranking up whatever music you like to sing along to and pouring yourself a glass of wine to enjoy while you stir. But that's just me.
If you do want to include the chicken in your meal plan during the week, you can absolutely save time on a busy weeknight by making the onions ahead of time. The actual chicken itself doesn't take long to put together. You can have that ready in under half an hour. And oh, did I mention, you are breading the chicken in cheese? Yep, cheese. So bread that chicken in Parmesan and sear in a cast iron skillet. Then top with the demanding onions and lots of cheese and bake until it's melty and beautiful.
Then enjoy the least chickeny chicken in the world.
Looking for other not so chickeny chicken recipes? Try these:
Print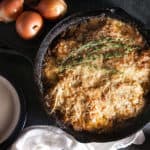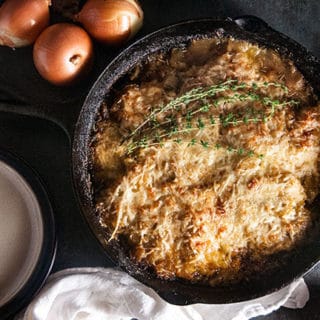 French Onion Chicken
---
Author:

Prep Time:

10 minutes

Cook Time:

1 hour 15 minutes

Total Time:

1 hour 25 minutes

Yield:

4

servings

1

x
Description
Savory French onion chicken
---
For the onions
3

pounds of onions (sweet or yellow) (Roughly

7

–

8

onions) cut into small pieces

1 Tablespoon

of Rosemary

1 Tablespoon

of Thyme

1 Tablespoon

of sugar

3 Tablespoons

of butter

½ cup

of extra virgin olive oil

1 teaspoon

salt

1 teaspoon

black pepper

4

–

6

cloves garlic

1/4 cup

of sherry or dry white wine
For the chicken
2

–

3

breasts sliced thin

3

eggs

2 cups

of grated Parmesan cheese

1 teaspoon

of Rosemary

1 teaspoon

of Thyme

2 cups

beef broth

4

cloves garlic

2 Tablespoons

corn starch

1 teaspoon

salt

1 teaspoon

pepper

4 Tablespoons

extra virgin olive oil
---
Instructions
For onions
In large cast iron pan, heat oil and butter over medium heat. Add onions, thyme, rosemary, salt and peppa, gaalic, and sugar and sherry. Cook on medium heat for about 45 minutes depending on level of doneness desired. Onions should be a light to medium brown. Stir with increasing frequency throughout the process. Towards end, stirring should be pretty constant to prevent burning. Remove from heat and set aside.
For chicken
Whip eggs, garlic, salt and pepper in small bowl or pan. In separate pan, add parm cheese, thyme, rosemary, and corn starch and combine. Drench slices of chicken in egg mixture and then pat parm mixture onto the chicken until well coated.
In same pan you used to cook onion, heat EVOO over medium high heat. Add all chicken at once, creating a layer on the bottom of pan. If needed, add a bit more EVOO to make sure there is enough to sautee each piece. Flip after about 4 – 5 minutes or when edges have turned light to golden brown. Cook for an additional 2-3 minutes. Remove from heat. Spread onions over the chicken in pan. Add beef broth and top pan with additional shredded Parmesan or Italian cheese on top if desired. Bake uncovered for about 25 minutes or until onions have turned a golden to dark brown.
Notes
You can make onions ahead of time. Just store them in fridge and add to chicken when ready.
Swiss or gruyere cheese would also be awesome on top of this chicken.
Category:

dinner

Cuisine:

American
Nutrition
Serving Size:

1 chicken breast
*These links are affiliate links. To read my affiliate policy click
here.