Easy meals like this roasted butternut squash soup are my jam today. It's the day after Halloween and the candy hangover is for real. I mean for real. Because when you have a 2 year old and take said 2 year old trick or treating, obviously the 2 year old can't eat all the candy.
It's just a bad idea.
Though arguably, it was a bad idea to take her trick or treating in the first place if today was my punishment for it. Clearly, she wore herself out trick or treating and running from house to house.
You know what though? I don't take it back. Trick or treating with her was so fun. More fun than we could have had when Nate and I were kids. I mean not that Halloween wasn't a blast then too, but it's so different. There's nothing like watching your kid have a great time. Especially when your kid looks stinkin adorable dressed up in a princess outfit complete with sparkly crown and fake fur coat.
Oh yes. That happened. And it was the stuff my dreams of having a little girl were made of.
Unfortunately, cue November 1. My kid didn't understand why after days of trick or treating (4 total), she wasn't wearing princess clothes. In fact, now that she's a very vocal 2 year old, Goose made her opinions on her plain clothes very known. I'm pretty sure the neighbors down the road know my kid was not happy about wearing pants today. And really, I mean, I don't blame her. Pants kind of suck.
But the tears and tantrum over pants were only one part of it. Goose was just having nothing to do with today. No "punkin" patch. No trick or treating. Just a lame old walk to see the horses. And it wasn't up to her high standards. So she cried. And demanded to be held. And cried more. So I held her. All day.
I understood why moms everywhere are tired and joke about coffee and wine. Totally get it.
But even despite the post apocalyptic Halloween fallout, I still managed to make dinner. Most nights, I'd wave a red flag and just wait until both of us were home. But this was so easy. I literally had to quarter 3 onions. That's it. It helps to plan for the worst and buy the precut squash. Makes it so much easier because after I quartered the onions, I just dumped the squash out onto a covered cookie sheet. I tossed the onions and squash with olive oil and spices, and put it into the oven, where I forgot about it for the next 45 minutes. Then I took it out, let it cool, ran it through a blender and hello, dinner done with Mommy's sanity somewhat in tact.
Somewhat.
Not only is this dinner easy, it's delicious and healthy. It's vegetarian or vegan depending on what stock you use and gluten free. We had to balance out the 30 pounds of candy we ate this weekend. Plus it's so yummy. I hate feeling like I can't eat good food just because making good food is difficult. This dinner puts that to rest. With virtually no active prep, you get a delicious, zippy soup flavored with ginger and garlic. Minimal sweat. Minimal effort. Maximum taste.
Which is exactly what I need today. That and another Snickers bar and a glass of wine.
Print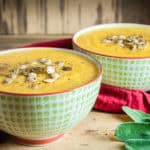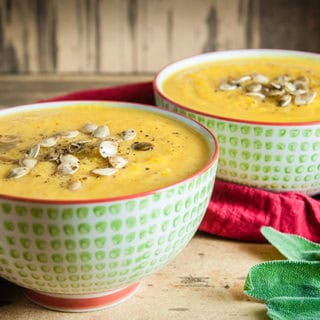 Easy Roasted Butternut Squash Soup
---
Prep Time:

10 minutes

Cook Time:

50 minutes

Total Time:

1 hour
2 1/2

pounds of pre peeled and cubed butternut squash

3

–

4

onions

4 tablespoons

of olive oil

6

cloves of garlic

1/2 tablespoon

of garlic powder

1 tablespoon

of fresh ginger grated

6 cups

of stock*
salt and pepper to taste
For roasted squash seeds
seeds from a squash, cleaned and rinsed

1 tablespoon

olive oil
salt and pepper to taste
---
Instructions
Preheat oven to 400 and line a cookie sheet with foil. Spray the foil with nonstick spray.
Quarter the onions and lay the onions and squash out on the prepared tray evenly. Press garlic cloves over veggies. Drizzle olive oil and toss the veggies to evenly coat. Sprinkle on ginger and salt and pepper.
Bake for 45-50 minutes or until the squash is fork tender and onions begin to caramelize on the edges.
Remove from oven. Let cool.
Put veggies into a blender along with 3 cups of stock. Blend until smooth. Pour into a saucepan and heat over low heat. Stir in the rest of the stock. Serve hot, garnish with squash seeds and fresh sage.
For the roasted seeds
Preheat oven to 400.
Toss the seeds in olive oil and season liberally with salt and pepper.
Bake for 10-15 minutes or until seeds are golden and slightly nutty smelling.
Notes
* I like either chicken stock or vegetable stock in this. I'd avoid beef stock.
Looking for other easy soup recipes? Try this Easy Tuscan White Bean Soup or Cheddar Apple Soup.