Just because it's Christmas in July week over here doesn't mean Man Food Friday isn't happening. This week the husband whipped up some Cranberry Barbecue Ribs.
O.M.G. these ribs. So stinkin good. Cranberry sauce doesn't sound like it would be an awesome ingredient in barbecue sauce, but holy cow! It is! The sweet and tart cranberry sauce (yes, the stuff that everyone buys at the holidays) makes the perfect background for the sauce. The sauce was the right combo of sweet and spicy in a finger licking sticky glaze. I'm obsessed.
By the way, be sure to sign up for our emails! You get another finger licking good take on barbecue sauce sent to you and all the toddler hijinks and delicious recipes you can dream of.
Husband did good. Despite toddler couch climbing and hyped up hero work.

No summer is complete without at least one barbecue that contains spare ribs. And no Christmas in July is complete without a take on a classic (and fancy) main dish. Just in time for barbecuing this weekend, I present to you a fusion of Christmas inspiration and a summer must-have with our Cranberry Barbecue Ribs. The perfect dish to balance out all the sweet treats and frozen drinks happening here this week.
If your not quite getting the connection, let me explain. It's simple really:
standing rib roast + cranberry sauce = cranberry barbecue sauce + spare ribs
Like I said, simple… and delicious.
And the simplest part? The cranberry barbecue sauce and ribs take about 10 – 20 minutes of prep time. Cook time will vary, but can be less than an hour.
I was able to cook the barbecue sauce and prep the ribs with a cranky, possibly suicidal toddler under foot (or worse, out of sight).
Let me set a scene here. It was around 5:30pm, our daughter had just awoken from a short nap. Jenna was not available. Deadline to get this recipe ready to go was approaching. I laid our daughter by my feet. And the timer officially started.
She sat up – I grabbed the pepper and can of peppers.
She awkwardly got to her feet – I had the jalapeno washed and on the board.
A something distracted her – I rough diced the jalapeno and dug out the chipolte pepper.
Distraction gone, she toddler sprinted towards the living room – I pressed garlic into a pot.
Couch reached – peppers dumped in. She started to scale the front of the couch – I rinsed my hands, measured out my oil, and set the burner to medium.
She reached the cushions and stood – I slow-mo ran yelling "NOOOOOO", heroically (Jenna is rolling her eyes so hard right now. And apparently typing about herself in 3rd person) diving to save her from a certainly deadly fall.
Jenna will tell you, she thinks I made that last part up. Jenna's note: total baloney. I was in the office doing some writing while all of this mayhem ensued. There were so many bangs. SO MANY. I had to plug headphones into the computer and turn on music so I couldn't hear the disaster outside my door and worry about what on earth was going on. Back to Nate now. But I stick to my story. My point is to show how easy it is to make this recipe. I finished my prep on the barbecue sauce AND ribs, while holding a now fussing toddler.
I ended up slow cooking the ribs over smokey charcoal four about 1 1/2 hours. Of course, you can cook them faster in the oven or a hotter grill. But if you have the time, slow cooking is the way to go.
Print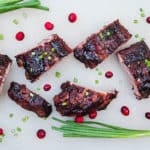 Cranberry Barbecue Spare Ribs
---
Prep Time:

20 minutes

Cook Time:

3 hours 30 minutes

Total Time:

3 hours 50 minutes

Yield:

Serves

2

-

3

people

1

x
For the Sauce
1/4 cup

olive oil or other oil

1

medium jalapeno pepper (diced)

4

cloves crushed or minced garlic

1

chipolte pepper (diced)

1

can whole cranberry sauce

4 Tablespoons

white wine vinegar or regular vinegar

1/3 cup

molasses

1/3 cup

brown sugar

1 teaspoon

chili powder
salt and pepper to taste
For Ribs
2.5

–

3

lbs spare ribs

2 Tablespoons

chili powder

1 Tablespoon

cumin

1 teaspoon

salt

1 teaspoon

black pepper

1 teaspoon

red pepper flakes

1/4 cup

olive oil

1/8 cup

brown sugar
---
Instructions
For the Sauce
Dice peppers and crush/dice garlic
Add oil and diced peppers and garlic to a medium pot.
Set burner to medium heat.
Simmer for about 3 minutes.
Add remaining ingredients and stir until combined.
Bring to simmer for about 2 minutes.
Reduce heat and cook on low, stirring occasionally, for twenty minutes.*
For Ribs
In a small mixing bowl, mix spices, oil, and sugar together.
Rub the spice mixture into the ribs.
Optional: Let marinade for 1 – 24 hours.*
Grill Method:
Get a low charcoal fire going or attach a smoker to the grill. Cook low and slow over the indirect heat for 4.5-5.5 hours. Brush with sauce and let smoke for an 10-15 minutes prior to serving.
Oven Method:
Set oven to 300.
Cook uncovered for about 1 hour, then cover and cook for an additional 1-1.5 hours.
Notes
*You can cook the sauce for longer on low heat, the longer it cooks, the more the flavors infuse. Same is true for ribs – the longer they cook over low heat, often the better the flavor.
** For safety, you should use a meat thermometer to make sure they are cooked all the way through.