Chewy, luxurious brown butter oatmeal chocolate chip cookies are an addictive take on oatmeal cookies and chocolate chip cookies.
Brown butter oatmeal chocolate chip cookies.
Brown butter. If you haven't tried brown butter yet, it's an absolute must. Browning butter turns it all rich and nutty. It is so delicious you could practically eat it by itself.
Not that I would do that, of course….
But mixing it into these oatmeal cookies makes standard oatmeal cookies magical. And I was looking to bring some magic into these cookies. I baked these cookies to spread some cheer to a sweet neighbor of ours, Miss M.
Miss M. is an older Irish lady that lives down the street from us. We became friends last summer when I would walk by her house every single day wearing my little Goose, who at the time was still an infant. Miss M. would often be out with her little dog and always asked about the baby, exclaiming over how beautiful she was (music to any new mama's ears), and telling me what a good job I was doing with the baby (also music to any new mama's ears). Some days Miss M. was the only adult I would talk to aside from my husband, and needless to say, I looked forward to our chats.
Sadly, I haven't been able to see much of Miss M. over the winter or spring. Over the winter, our house was a constant infirmary with one cold after another for months on end. Finally, when the weather broke and the colds stopped, we started walking by her house again. Miss M. wasn't out. Well, last week, she was sitting on her porch one evening when we walked by. She had a gift for my Goose, and told me she hasn't been doing well. To thank her for the thoughtful gift for my Goose (a stuffed kitten) and brighten her spirits, I decided to bake her cookies and I wanted them to be delicious.
Thankfully, they were. The brown butter's nuttiness complements the chewiness of the oats and the sweetness of the chocolate chips perfectly. Plus the whole grain from the oatmeal made me feel much less guilty about letting Goose eat three for breakfast the day we made them.
Tips for Making Brown Butter Oatmeal Cookies
Take care not to burn the butter. You'll know it's done when it turns a caramel color and releases a nutty smell.
Don't over mix the dough. The cookies will be tough if you mix them too much.
Don't skip the chilling step. The cookies will spread more if they aren't chilled.
Looking for other cookie recipes? Try these:
Print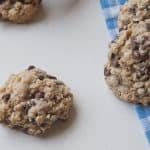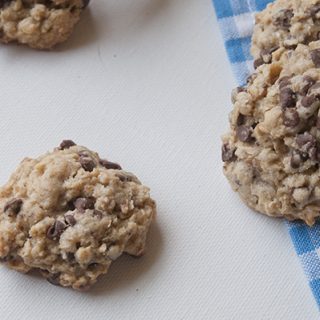 Brown Butter Oatmeal Chocolate Chip Cookies
---
Author:

Prep Time:

1 hour 15 minutes

Cook Time:

9 minutes

Total Time:

1 hour 24 minutes
Description
Chewy, luxurious brown butter oatmeal chocolate chip cookies are an addictive take on oatmeal cookies and chocolate chip cookies.
---
1/2 cup

butter

1/3 cup

sugar

2/3 cup

packed light brown sugar

1

large egg

1 tsp

vanilla extract

2 cups

old fashioned oats*

1/2 cup

oat flour**

1/4 teaspoon

salt

3/4 teaspoon

baking powder

1 cup

of mini semisweet chocolate chips
---
Instructions
In a small sauce pan melt the butter over medium low heat, stirring occasionally, until it turns golden brown and smells nutty. This takes about 5 minutes. Remove from heat and set aside.
In a medium bowl mix cream the egg with both sugars and vanilla. When the egg and sugar mixture is thoroughly combined, slowly mix in your browned butter.
In a large bowl, whisk together the oats, flour, salt, baking powder, and chocolate chips.
Slowly fold the dry ingredients into the wet ingredients. Beat until just combined.
Cover the dough and let it chill in the fridge for at least an hour.
Once the dough has chilled, remove from refrigerator and roll into 24 equal sized balls. Place them about 3 inches apart on a cookie sheet lined with aluminum foil and sprayed with nonstick spray.
Bake at 350 for 8-11 minutes or until the edges of the cookies are golden brown.
Notes
*To make these cookies gluten free, use gluten free oats. I like Bob's Red Mill.
**I also suggest Bob's Red Mill for gluten free oat flour. You can substitute regular all purpose flour for the oat flour. I prefer the extra earthiness from the oat flour.
Keywords: brown butter oatmeal cookies, oatmeal cookies, chocolate chip cookies, brown butter oatmeal chocolate chip cookies