Black Bean Salad with Chimichurri
You know how a lot of times wedding food sucks?
Well, I have to hand it to my best friend. She recently got married in Key West (that's a whole other story!) and let me tell you: the food at her wedding was awesome. I'm not just saying that because I love her. I'm saying this based on two things:
Plaintain encrusted chicken
Chimichurri Sauce
The chimichurri sauce was incredible. Literally my husband went back up to the buffet and filled a plate with just this chimichurri sauce. We mopped it up with bread and ate it by the spoonful. I was a super classy wedding guest/bridesmaid. What can I say? You can dress me up but can't take me out.
As I was shoveling this amazing chimichurri into my mouth and actually managing not to get food on my dress, I had two thoughts:
Dang. I am not getting food all over myself even though I am eating a drippy, green sauce with a spoon while wearing a fancy dress. It must mean that the majority of food I get on myself these days is a direct result of Goose.
Holy cow! This sauce would be amazing on a black bean salad.
So of course, when I came home, one of the first things I did aside from snuggle the Goose for a full day, was make this black bean salad with chimichurri sauce.
We eat tons of black beans in this house. While I am not a vegetarian (obviously if you've checked out this insane burger recipe and these incredible ribs), I used to be and we still eat vegetarian probably 4 days a week. Plus Goose LOVES black beans. So this black bean salad with chimichurri was an obvious winner here.
It requires virtually no actual cooking, other than boiling rice. And if you use the microwaveable bag rice, you can totally get around that step. So this is the perfect recipe if you are a kitchen beginner or if you just don't feel like cooking in the height of the summer heat.
Plus, this black salad is full of healthy things so you feel really good about eating it. With brown rice, black beans, sweet corn and tomatoes, and avocado, this dish is definitely bathing suit friendly. At the same time though, it's filling enough to be a meal on it's own. Plus it's naturally vegan and gluten free. Pretty impressive for a little salad, right?
Then let's talk about the chimichurri sauce. OMG. So good. If you have never had it, chimichurri is basically pesto but with cilantro instead of basil. And no nuts. It's so full of fresh flavor from the cilantro and zing from garlic and lime. Plus it looks all fancy so you feel like you are eating in a restaurant even when you are really at home juggling trying to keep your toddler from flinging spoonfuls of food at the dog and laughing gleefully.
It's all about the little wins.
Print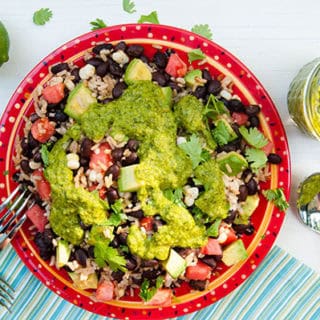 Black Bean Salad with Chimichurri
---
2

cans of black beans, drained and rinsed

1.5 cups

of brown rice

1 cup

of sweet corn, cooked

1

tomato, chopped

1

avocado, chopped

1

tbs of chili powder

1 tsp

of cumin

1 tsp

of garlic powder
the juice of 1 lime

1 tsp

olive oil

1 cup

of cilantro, chopped
For the Chimichurri Sauce
1 cup

of olive oil
Juice of

1

lime

2

garlic cloves

1 cup

of fresh cilantro

1/2

a red onion
pinch of crushed red pepper flakes
salt and pepper to taste
---
Instructions
Cook the rice according to package instructions. Combine the cooked and cooled rice with drained beans, corn, tomato, avocado, and spices. Toss together with olive oil and the juice of 1 lime. Set aside.
Once salad is assembled, add all the ingredients for the chimichurri sauce into a food processor. Pulse until the the onion and garlic are chopped and the ingredients are combined.
Pour sauce on top of salad and serve immediately or store the sauce in a sealed container in the fridge for up to 3 days.