Man Food Friday is back with Barbecue Beef Nachos. This pile of deliciousness was born from desperation, hunger, and leftovers. The husband gets lots of props for this pile of beefy, cheesy nachos and some serious Liam Neeson style skills.
That's right. Barbecue Beef Nachos are revamp of Barbecue Beef Sandwiches from a couple Fridays ago.
Like most great recipes, it is part desperation and inspiration. Our daughter, Jenna, and I were hungry. We had almost no food (at least little meal prep food) in the house after our trip. And a general attitude of we're not packing up the kid to get more food. Yeah, it was one of those days.
But what I did have was a particular set of skills. Skills that make me a nightmare for leftover foods… With no options left, I hunted down said foods.
First, I needed a base. We had done a lot of pasta lately. A. Lot. Noodles were out. Thinking healthier, I tried for a salad base. Thankfully, there was no spinach or lettuce, so I dodged that bullet. Tortilla chips, on the other hand, were readily available. Goose has been on a tortilla chip kick lately and will eat them as a snack now, until her next upgrade where she decides she no longer likes them. But for that day, I could borrow some of Goose's chips.
Tortilla chips left me with a few options revolving around nachos, many that required additional food prep. Problem. As you might recall, we were already feeling less than enthusiastic about doing much of anything. And we were low on food. My attempts to find ground beef failed. Chicken gone. But we did have a bag of frozen Barbecue Beef.
So I thawed it out and reheated it just a bit. This was seriously the longest part of the process. Like any good nachos, I needed cheese. Thankfully, we had a whole bag of cheddar/Mexican blend (Spoiler: after we made these nachos, we didn't have a bag of cheese any more). We also had an avocado, some cherry tomatoes, and a jalapeno pepper. Ingredients at the ready, I built a nacho pile better than any restaurant I have ever had nachos at. Goose, of course, helped by quality controlling the chips and cheese, making sure every few tasted correct. This girl has strict quality control.
Born of necessity and laziness, these Leftover Barbecue Beef Nachos are amazingly awesome and definitely something to take to the next get together or to prep on one of those days.
Print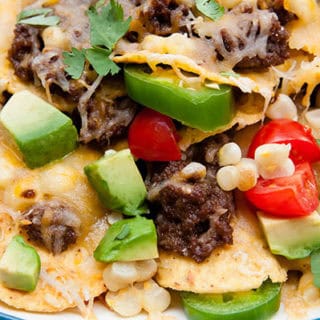 Leftover Barbecue Beef Nachos
---
Prep Time:

12 minutes

Cook Time:

15 minutes

Total Time:

27 minutes
Barbecue Beef (see Barbecue Beef Sandwich post)

2 cups

of cheddar or Mexican cheese

1/2

bag of tortilla chips
For top:
1

medium sized jalapeno (cut into wheels or diced)

1

avocado (chopped into squares)

1 cup

cherry tomatoes (cut in half)

1 cup

of sweet corn (cooked)
minced cilantro (to taste)
---
Instructions
Preheat oven to 350.
On a oven safe dish, spread out a layer of tortilla chips.
Spread out a layer of cheese.
Spread out a layer of Barbecue Beef.
Repeat until out of ingredients.
Save some cheese for the top layer.
Put the plate in the oven.
Cook for about 10 – 15 minutes or until heated through.
Carefully take out of the oven and spread the jalapeno, avocado, cherry tomatoes, and cilantro evenly.
Serve on the same plate, or be a dare devil and try to carefully transfer plates (not recommended)