It's that season again. Weather is turning colder. We're all starting to look for one pot, hot meals. And Thanksgiving and Christmas will be here before we know it bringing festive desserts. Meaning, it is not too early to start thinking about preparing that turkey. If you have never tried brining or are looking for a new recipe to try, brining the perfect bird can be as easy as it is delicious. This apple cider brined chicken is no exception.
Let's stop here for a moment. You may be asking yourself, if you have never tried a brine, what is the benefit of a brine? Well, first, it makes the bird juicier. Yes, done right, the brine bath actually makes the dry breast meat much juicer. And I think we have all been there when a turkey has been a bit too dry and tasteless, which brings us to the next point.
Brining the perfect bird adds flavor. Brine is not just liquid and salt. No. It is much more than that. Brining adds flavor. Lots of flavor.
Turkey is like chicken to us in our house. We are not huge fans of it. And, we demand that the turkey and chicken meat are as flavorful as possible. So, many years back, we started playing around with brining our birds. Whenever we cook a roast chicken or turkey, we always brine it for a day or two ahead of time. But the process of brining takes less than ten minutes and could be done with children under foot.
Sadly, the Goose had too many other things going on this week than to worry about helping dad prepare a chicken for dinner this week. She was obsessed with her "train ride. Goose." Every few minutes, up until our train ride, she would ask about "train ride" adding a different name of a family member going with her.
Although she definitely did not help make the chicken, she definitely helped to eat it. And the apple cider brined chicken this week was particularly good with a lightly sweet flavor from the cider. Plus it was fall of the bone tender and the cider made for some particularly flavorful gravy that all of us loved including the Goose.
Print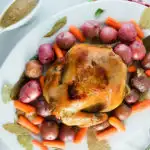 Brining The Perfect Bird
---
Prep Time:

10 minutes

Total Time:

10 minutes
5

–

10

pound chicken/turkey

1/2 gallon

apple cider

4

–

6

whole cloves of garlic

2 Tablespoons

garlic powder

2 Tablespoons

mustard seeds

2 Tablespoons

black pepper

6 Tablespoons

salt

4

bay leaves

2 Tablespoons

cinnamon powder

2 Tablespoons

thyme
---
Instructions
Mix all ingredients (except the bird) in a large bowl (or clean bucket).
Add your bird.
Let sit for at least overnight, but 24 to 48 hours would be ideal.
Drain the brine.
Place bird on it's breast and bake at 325 for 30 minutes per pound. Bake until the internal temperature reaches 165.
Notes
*** Please note: if you are using a much larger bird, consider doubling the recipe. At minimum, you want to make sure you have enough liquid to cover the entire bird.